While in Spokane, Washington at the National Trust for Historic Preservation annual conference, I, along with many other Ohio delegates, attended a session on right-sizing.  Presenter Cara Bertram, with Place Economics, conducted a survey of older industrial cities that have experienced significant population change over the last 40 years.  Cleveland, Youngstown, Dayton and Cincinnati were 4 of the 20 cities selected for the survey.[1]
We expected answers and concrete models working in other cities that we could bring back to Ohio. Instead, we learned that there currently are no success stories.  The issue of vacant properties and low population has only begun to be documented and the idea of rightsizing, or the process of reshaping physical urban fabric to meet the needs of current and anticipated populations, is only a working theory.   We discovered that dramatic population loss is being experienced across the nation, not just in older industrial cities, but also in Texas, where army bases have vacated, and also in Niagara Falls, NY where they are about to lose their city status along with a significant reduction in federal funds .  While a few facts remain constant, such as decreased population, vacant buildings, and economic decline, the available resources change dramatically from city to city and also state to state.  Essentially, Ohio needs to find creative ways to solve rightsizing issues through our own resources and funding sources because a national model is not coming any time soon.
Two Ohio cities, Sandusky and Painesville, have decided to create disincentives by using penalties to nudge people and companies to make decisions that expand the tax base.  Both cities have created vacant property registries.  The ordinance requires owners of vacant properties to sign a registry.  Part of the registry requires that the property owner indicates who the lawful owner of the property is and provide the contact information for that owner, or in the case of out of town owners, to provide the local contact for the person acting as the owner's agent.  The property owner is then required to submit a plan for leasing the property, selling the property or developing the property.  The ordinance also requires the property owner to keep the property safe and secure and maintain the property in accordance to local standards.  As stated in the purpose of the Painesville ordinance, "(t)he purpose of this ordinance is to establish a program for identifying and registering vacant residential and commercial buildings; to determining the responsibilities of owners of vacant buildings and structures; and to speed the rehabilitation of the vacant buildings. Shifting the cost burden from the general citizenry to the owners of the blighted buildings will be the result of this ordinance."  The key to this statement is "shifting the cost from the general citizenry to the owners of the blighted building."  A dilapidated downtown building affects the whole city.[2]
On a statewide level, the Ohio Development Services Agency has created the Ohio Vacant Facilities Fund to create reuse incentives for vacant buildings while investing in local businesses and creating jobs.  An employer will receive $500 in grant funds for every new full-time position created in eligible facilities.  The position must last at least one year before funds will be distributed.  Funds can be used for acquisition, construction, enlargement, improvement, or equipment of the facility.  The fund has been allocated $2 million through August 2015 and will begin accepting pre-certification requests November 26.  Over the next two years, the fund has the ability to create up to 4,000 jobs.
The program can be used by all scales of employers to fill both big-boxes and main street storefronts.  For example, a bakery opens in a downtown.  They create 4 jobs after opening.  After 1 year, they are eligible for $2000, which could be used to reinvest in their equipment to meet their growing business needs.
Employers should submit a pre-certification request form, available from the Ohio Development Services Agency's website http://development.ohio.gov/cs/cs_ovff.htm.  The request must be submitted prior to occupying the vacant facility or increasing employment in order to verify eligibility and reserve funds.  All for-profit businesses are eligible, while non-profit and governments are not eligible.  The building must be 75% or more unoccupied and available for use in trade or business for no less than 12 months.  If the building is not occupied or construction is not complete, then construction must be at least 85% or more complete and able to be lawfully occupied with a certificate of occupancy.  Also, the employer must increase employment above the Base Employment Threshold.
For more information and pre-certification request applications, please visit the agency's website: http://development.ohio.gov/cs/cs_ovff.htm, or contact the Office of Redevelopment at historic@development.ohio.gov or call 614-995-2292.[3]
---
[2] This excerpt is from the article "The Price of Vacant Property" written by Jeff Siegler and can be found in the Fall 2012 issue of Revitalize Ohio.
[3] For direct assistance contact: Nathaniel Kaelin, Ohio Historic Preservation Tax Credit Program Manager, Office of Redevelopment, Community Services Division.  Nathaniel.Kaelin@development.ohio.gov or 614-995-2292.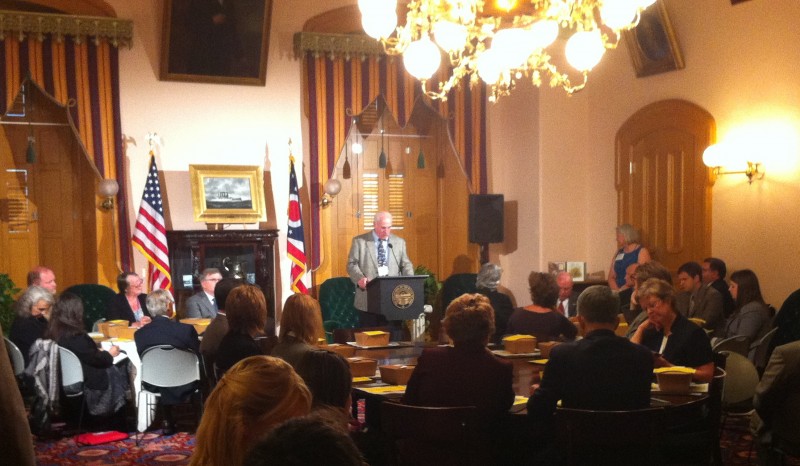 Today, Heritage Ohio co-hosted along with Ohio's Hill Country Heritage Area, our 2nd Annual Appalachia Heritage Luncheon at the Statehouse.  The purpose of the luncheon was to introduce successful projects to Ohio legislators and to show them how cultural programs are having a positive impact on the Appalachia economy. Thirteen speakers shared success stories ranging from Main Street to historic tax credits to singing the Paw-Paw song.  It was inspiring.
The stories of success can be applied anywhere in Ohio.  Using the cultural assets in your community will help distinguish your strengths and enhance your identity, making your community more competitive in our ever-changing economy.  Those places that choose to be all things to all people become so generic they have lost their soul.
The luncheon was recorded via the Ohio Channel and will be available for viewing at www.ohiochannel.org beginning 9/27/12.
Thanks go to hosts Sen. Tim Schaffer (District 31) and Jason Wilson, Director of the Governor's Office of Appalachia for their support. Thanks also goes to the wonderful insiders tour provided by Bob Loversidge, architect of the statehouse.
This event has grown in importance – watch for your invitation to a bigger event in Fall of 2013.
To paraphrase eloquent speaker Julie Zickefoose: Appalachia's wealth is on top of the shale.
The application period for Round 9 of the Ohio Historic Preservation Tax Credit program is now open. The application form and self-scoring sheet can be downloaded under 'General Program Forms' on the program website: http://development.ohio.gov/Urban/OHPTC/. A total of $30 million in tax credit allocation is currently available for Round 9 applicants.
All applicants are required to schedule pre-application meetings with both the Office of Redevelopment and the Ohio Historic Preservation Office prior to submitting an application. Applicants are encouraged to contact both offices early in the application submission period to schedule the meetings to ensure availability. The Ohio Historic Preservation Office can be contacted by calling 614-298-2000.
Please note that applications must be submitted (not postmarked) to the Office of Redevelopment by 5:00 p.m. on Monday, October 1, 2012.
Round 9 will be administered on the following schedule:
- Application Submission Deadline: October 1, 2012
- Application Review Period: October 2 – December 17, 2012
- Approved Applications Announced: on or before December 31, 2012
Please contact Nathaniel Kaelin at nathaniel.kaelin@development.ohio.gov if you have any questions about the application and to schedule a pre-application meeting. Thank you for your interest in the Ohio Historic Preservation Tax Credit Program.